Now in Beta:  Aqqaint
The First Social Marketplace Built On Trust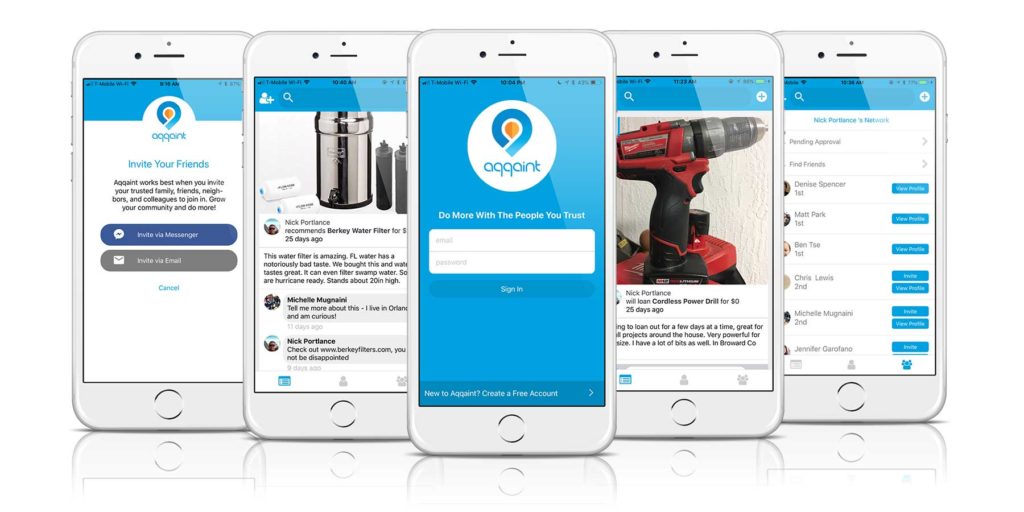 We are announcing the new beta version of Aqqaint. The first trust-based social network marketplace that connects friends and friends of friends to support exchanging of products and product reviews.
The team at Aqqaint noticed a problem with existing marketplaces, such as Letgo, Craigslist, Offerup, and even Facebook's Marketplace. These online exchanges are all based on stranger-to-stranger interaction. Unfortunately, this creates a place where criminals can operate with almost complete anonymity. Additionally, we wanted a place to share product reviews and find out what cool new thing our friends were using.
Our team has some experience in analyzing social networks and have seen the power that closely knit networks can have when they exchange resources to achieve their goals. So we took that knowledge and built an application that enables communities to exchange products and reviews without sacrificing trust or safety.
 How it works.
Aqqaint allows you to build a network of trusted friends, family, neighbors, or colleagues. That is your first-degree network. This is not an unfamiliar concept in social networks. Where Aqqaint differs is that we also connect you, instantly, to all of your first-degree's trusted network of friends, family, neighbors, and colleagues. This is your second-degree or extended network. That is where the power of the network you build exists.
You have the ability to create a close trusted community and connect with their close trusted community. This creates an environment where safety, trust, and personal accountability all are very real factors in any exchange. It also removes the conditions that allow criminal behavior to thrive which is true of stranger-based applications.
Once you have created your trusted network, Aqqaint enables you to do more than just sell or buy used goods. We support buying, selling, loaning, renting, and giving items away. Additionally, you have the ability to recommend products to your friends. Something that is not easily done through existing review platforms, but is extremely useful. In fact, 92% of people say they trust a friend's recommendation over that of a stranger, and there are more and more reports of fake or incentivized reviews making their way into our decision-making process.
What we need.
Ultimately, we need you. We are still in the early stages of building our product and feedback from our customers is critical to help us build a tool that you can use to "do more with the people you trust."
Aqqaint is available for both Android and Apple phones, although it isn't optimized for tablet use just yet.
We are going to be limiting the number of participants in our early testing so if you want in don't wait. You can visit our website to sign-up or find us on Facebook where you will find a link to the signup page as well.  
We look forward to building something great together!